AAE file on iPhone and iPad
AAE file is not visible on iOS devices. This file contains information about changes made to the picture in Apple Photos app. The only place where you will meet AAE file is when you export photos from iPhone or iPad to the Windows computer. In that case you will get AAE file along the original JPG or PNG file. But even there AAE file is not useful because the changes stored in it are applied to the original image and saved to the separate file during import photos operation. That is why when why you see AAE file on Windows OS machines it is generally not necessary and you can delete it. Even if you try to export photos back from Windows machine to iOS device AAE file will be ignored and both original and source files will be copied back as separate files and all edits specific information will be gone.
That is why if possible it is better to stay within iOS platform if you want to preserve changes to your photos and be able to edit them later as a single photo instead of original and edited versions.
Apple iCloud online storage also is a great way to keep edited and original version of the file together Apple iCloud understands correctly original and edited images of the file and displays them as a single image in the user interface. But you can still download both versions by clicking corresponding buttons on the Apple iCloud interface. To download the original version click an arrow in the right bottom corner of the download button and select "Unmodified Original". To downloaded edited version select "Most compatible – including edits" option.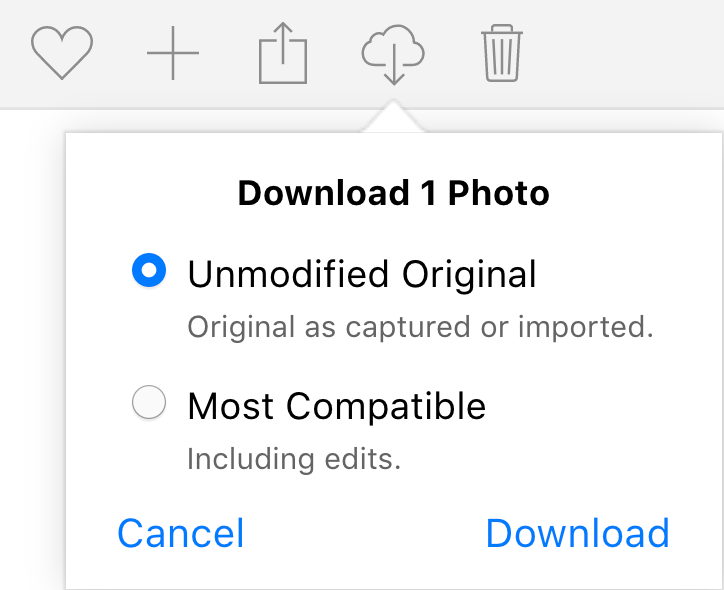 We should note that edited version typically is downloaded as JPG file because it is the most compatible file format for most of the devices. But "Unmodified original" could be downloaded in HEIC file format which is a new efficient image storage file format from Apple. If you want to switch to JPG file format for all images you should go to Settings->Camera->Formats and select "Most compatible". This option will force all new images to be saved as JPG.